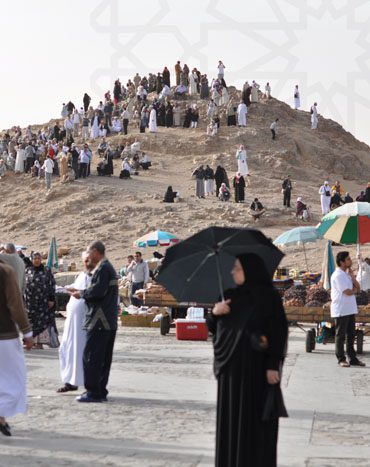 Completing the rounds around Kaaba that is known as Tawaf, drinking zam zam, offering prayers in Harem complete a ritual and spiritual journey known as Ummrah. In this journey people from every ethnicity, cultures, backgrounds visit this holy land in order for the peace of their souls and for their lives. This holy journey begins with the ritual clothes the Ihram in which male pilgrims wear two seamless strips covering them and women use to wear any random clothing covering them completely except their hands and face. Then after arrival they go to the Kabah for Tawaf and then back and forth walking between the hillocks of Safa and Marwah the ritual places of Makkah. then they use to visit Jabal al Nour where there is a cave known as the Hira cave or Ghar e Hira. Then the pilgrims' drinks Zam Zam in order to complete the rituals, visit of sacred places, then travelling to Madinah state and offer prayer in masjid e NABVI. People who can afford visits yearly.
This complete tour or visit to holy cities are offer by Alsalama travels with complete packages which can be of low rate, premium or VIP. All kind of facilities and information are available. By contacting our expert agent, you can achieve complete information regarded to the documents and the process for travelling. If professionals are the guiders and the experts are advisors than your trip will become the best trip towards the holy cities. Complete stay during visit in clean and good places, cheap fares for flights, meals during the travel, brilliant food with quality in hotels. Complete assistance by the scholars of Islam and other guiders or translators for your better understanding are available
Complete round trip tickets are available, luxury buses or required transport by the customers, complete meals of breakfast, lunch and dinner, complete guidance related to the trip and visit of sacred places are our valuable services for our valuable customers. Also there is a Ramadan package for the customers who desire to spend their Ramadan in Makkah and Madinah with complete services. Varieties of different packages and offers are available. Less stress on budgets and more peaceful journey towards holy cities of Makkah and Madinah can be possible if you make your choice worthy by choosing Alsalama travels for the holy trip. Customers' satisfaction is our first priority. Make the choice of Alsalama and make your trip worth of visiting Makkah and Madinah.